Wicked Tinkers – Cask Strength Tribal Celtic Music!
Prepare yourself for a wild ride with WICKED TINKERS! Pioneers of the growing Tribal Celtic movement, the Tinkers have been playing haunting, heart-pounding bagpipes and irresistible tribal drums as a professional touring band since 1995. With the addition, several years back, of the mesmerizing drone of the Australian didgeridoo and Bronze Age Irish horn, the magic was complete. Sit back and be transported to an earlier time in Scotland and Ireland, when battle cries filled the air and strange, unheard-of creatures roamed the night. Or better yet, get on your feet and let your body move to ancient rhythms and forgotten sounds.
Don't think this is dry, dusty music for museum shelves – WICKED TINKERS merge the best of modern, almost rock-and-roll energy with the hypnotic, insistent grooves of their Gaelic ancestors. Rare is the bystander who comes away without feeling a surprising, sometimes bewildering connection to long-forgotten primal emotions ... half-memories of ages past and experiences nameless yet somehow familiar. WICKED TINKERS creates music to set your jaw, put a fire in your belly, a glint in your eye and a dance in your feet.
In 1995, bagpiper Aaron Shaw met bass drum player Warren Casey at The Celtic Arts Center in Los Angeles, CA. Playing together, they discovered the simple beauty and power of the music created by these two instruments.
"The combination seemed to tap the very soul of Gaelic Music," says Shaw.
This is the music you might have heard hundreds of years ago at a Scottish wedding celebration, or perhaps around the campfire of a Highland raiding party – a raw, exciting sound that touches you on a primal level. To express this feeling of the ancient within the modern world, WICKED TINKERS was born.
Over the years, the band has evolved into it's current line-up. This strange and unlikely combination of people and instruments seems to access our deepest connection to a primal place that is both ancient and hauntingly familiar. It is the music of our Celtic ancestors, reimagined for the twenty-first century.
Here are a few of the many shows and festival we have performed at over the years:

San Diego Scottish Games, Vista, CA
Pacific Northwest Scottish Games, Enumclaw, WA
Arizona Celtic Festival, Flagstaff, AZ
Sacramento Valley Highland Games, CA
Sonora Celtic Festival, CA
Prescot Highland Games, AZ
Las Vegas Highland Games, NV
Utah Scottish Festival, Lehi, UT
Treasure Valley Celtic Festival, Boise, ID
Scottish Highland Gathering, Pleasanton, CA
Longs Peak Scottish Games, Estes Park, CO
Texas Highland Games, Arlington, TX
Oklahoma Highland Games, Tulsa, OK
Kentucky Scottish Weekend, Carrollton, KY
Mid-Winter Scottish-Irish Festival, Valley Forge, PA
Pipes in the Valley, Hartford, CT
Rhode Island Celtic Festival, RI
The Texas Highland Games in Arlington, Texas
Estes Park, Colorado
"…the Tinkers appeared, beating the living hell out of tapan, bodhran, and marching snare drum, while pipes skirled, a didgeridoo wobbled, and a Bronze Age Irish horn bellowed, like the voice of some H.P. Lovecraft aquatic leviathan… Piper and cofounder Aaron Shaw is a master of one of the hardest, weirdest instruments on Earth, and when the powerhouse percussion comes into play, he rides the rhythm like the wild surf." -
Mick Farren, City Beat – Los Angeles, CA
The Wicked Ones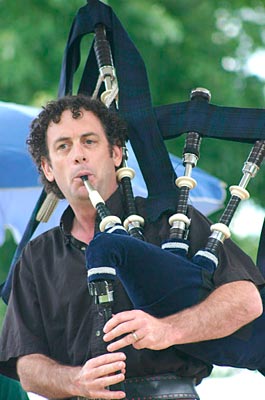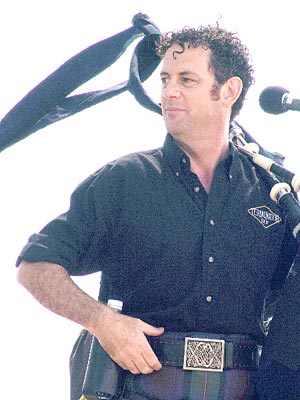 Aaron Shaw - Bagpipes, Trumps & Vocals


Aaron Shaw has been playing the Scottish Bagpipes since 1976. He is a much loved and well-respected pipe teacher, both in the L.A. area and at summer piping schools around the country. He first heard the bagpipes at age three in the highlands of Santa Cruz, CA, where he grew up. At 16, on a trip to Scotland, he bought his first set of pipes. Shaw has won many top awards, from Los Angeles to London, including the Silver Chanter at Costa Mesa and the Strachan Trophy. For years he was a member of the L.A. Police Pipe Band. His piping is known for its musicality, and his love of the music keeps Aaron playing. He says, "Most pipers shy away from the emotion of this music. But the pipes amplify sorrow and longing, exuberance and joy, even the bloodlust of battle. I do not run from this power – I embrace it."
You've seen him perform on "American Idol," "The Tonight Show," "The Late Late Show with Craig Ferguson," "Friends," "The Drew Carey Show" and others. His music is heard in several big-budget films such as "The Fugitive." He has recorded with many artists including Bonnie Raitt. On stage, Aaron is known for his dry wit and having "too good a time" playing the instrument he loves.

Aaron's personal website can be seen at: piperaaronshaw.com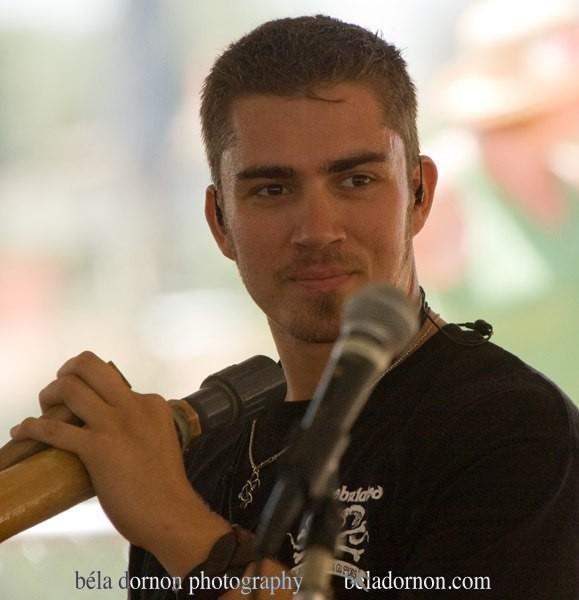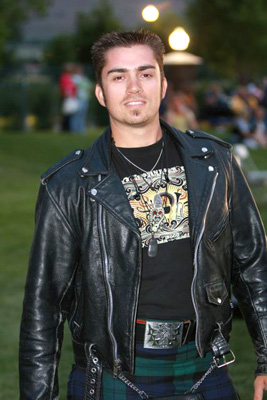 CJ Henderson - Didgeridoos, Bronze-age Horn



When the newest (and youngest) member of the band, CJ Henderson, first saw the Wicked Tinkers, he said, "I want to do what these guys do!" He heard their didgeridoo and said, "...and I want to play that thing!"

After befriending the band, he immersed himself in the didgeridoo and soon became expert at its haunting, rhythmic sounds. CJ has a passion for music (especially punk and rock), playing bass guitar, bodhran and trombone – but the didgeridoo is the instrument that resonates most with him. In 2009 the Tinkers brought him aboard to play didge, Bronze-age Irish horn ('dord íseal'), and drums.

CJ's artistic talents can also be seen in his pottery, like the rum bottles and oversized beer mugs he designs, crafts and sells. Born and raised in Bakersfield, he brings a rugged style, a new perspective, and an enthusiastic stage presence that adds greatly to the sound and energy of the Wicked Tinkers.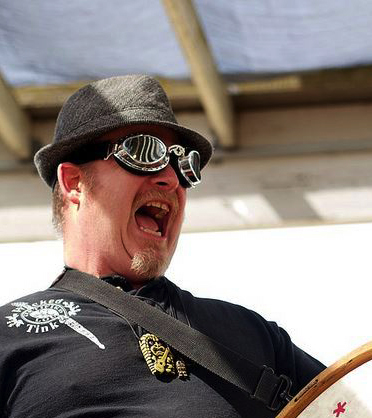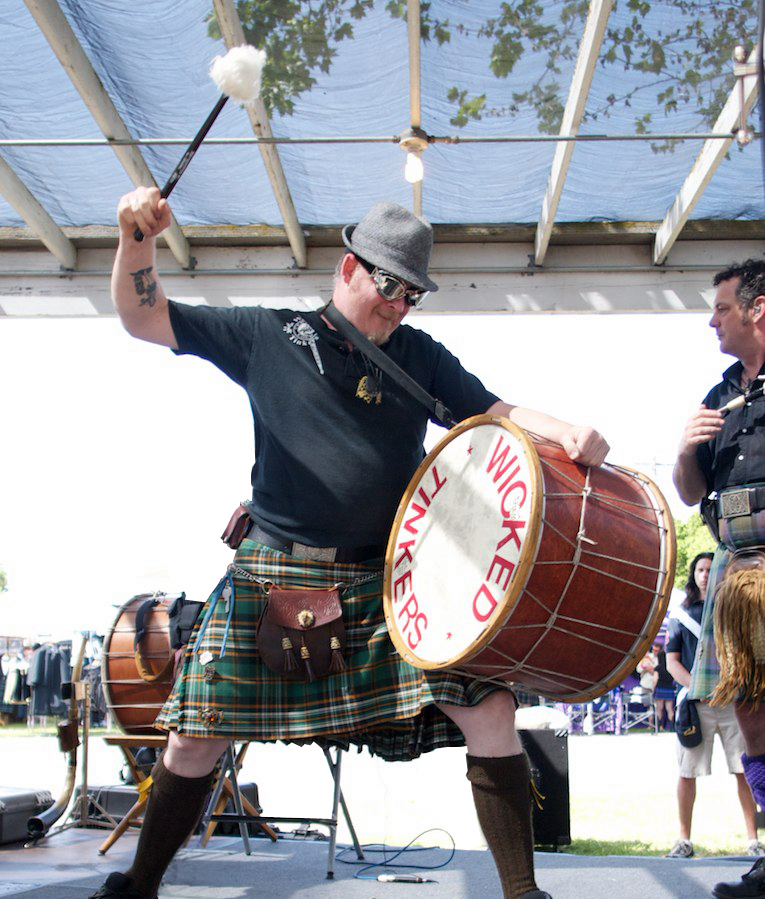 Tiki King - Tapan/Bass Drum / rhythm pole / Raconteur



Tiki and Aaron have a long and varied musical history. From playing together in Punk and Ska bands of the eighties, to busking with the pipes and drum on the streets of Santa Cruz, they were always ready to do what it took to raise a little beverage money!

On stage, Tiki is famous for his savage energy and thundering bass drumming, while his offbeat and surprising humor keeps audiences guessing. Tiki's playing style was once described as, "He beats that drum like it done him wrong!" but it is all in fun!

When not in a Kilt, you might find Tiki in a grass skirt, as Tiki King is a self taught artist and Luthier, specializing in Tiki and Ukulele themes.



Tiki's personal webpage is at: tikiking.com