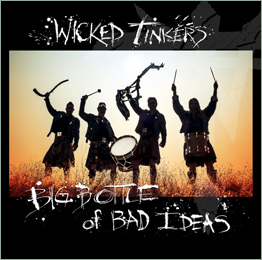 Big Bottle Of Bad Ideas, Released March 19, 2016
With this, their seventh CD, Wicked Tinkers continue to break new ground in the Tribal Celtic Music movement. The first CD with CJ Henderson Tiki King
This was first released in two versions, one for retail, and one for people who had pledged to our Kickstarter fundraiser. The Kickstarter version contained additional unlisted "bounus" tracks.
Track Listing:
1.  The Race
2.  The Guinness Set
3.  Aiken Drum
4.  HP Sauce
5. Ian Campbell
6.  Bonny Black Hare
7.  Zola's Set
8. Drunk a Thousand Times
9. Uilleann Set
10. Ramblin' Rover
11. Belly Dance Set
12. Piobaireachd
13. Happy Jigs
14. Beer, Beer, Beer
Aaron Shaw: Scottish Highland Pipes, Uilleann Pipes, Scottish Small Pipes, Vocals and Penny Whistle.
Keith Jones: Snare, Djembe, Bodhran, assorted Percussion, screams
C.J. Henderson: Didgeridoos, Replica Bronze Age Irish Horn, Bodhran, Vocals, Small Tupan.
Tiki King: Bass Tupan, Banjo Ukulele, Vocals.
Guest Artists:Turk: Backup vocals, 12-string guitar, banging and grunting
Los Angeles Police Emerald Society Pipe Band on "Ian Campbell"
All songs Traditional, and /or written and arranged by Wicked Tinkers, except:
"Ramblin Rover"By Silly Wizard
"beer Beer Beer" by: Manuel, Davoli, Lennon (Uniquity Publishing/PRS)
Donald MacLeod - James Barrie
The Blue Cloud - Adam Quinn
Recorded, Mixed and Mastered by:
Scott Fraser at Architecture, Los Angeles CA.
Graphic Design & Production: Turk & Tiki
CD Tray Barrel Artwork: Katie Henderson
Cover Photograph: William Thoren
Back Cover Photo: Aaron Shaw
Special Thanks to:
Lesa and Finn MacEwan; Penelope Shaw and Michael Dayton; Virginia, Alysia and Allison Jones; Ed Henderson; Julie and James Baron; Max and Sue Groszmann; Adam Buxbaum (DONKEY!!); and Alexandra Medeiros Luca Valenta Photography, Cody Hoadland Photography and all of our awesome photograper fans
William Lang Leatherworks (billyconcho@aol.com);
Jamie Stewart at Mayor Drum Supply;
And All you Kickstarter fans and TinkerHeids,
we couldn't have done it without you!